Northern Sudan Expedition
Booking Dates
07/04/2020 through 01/18/2021
Travel Dates
07/04/2020 through 02/01/2021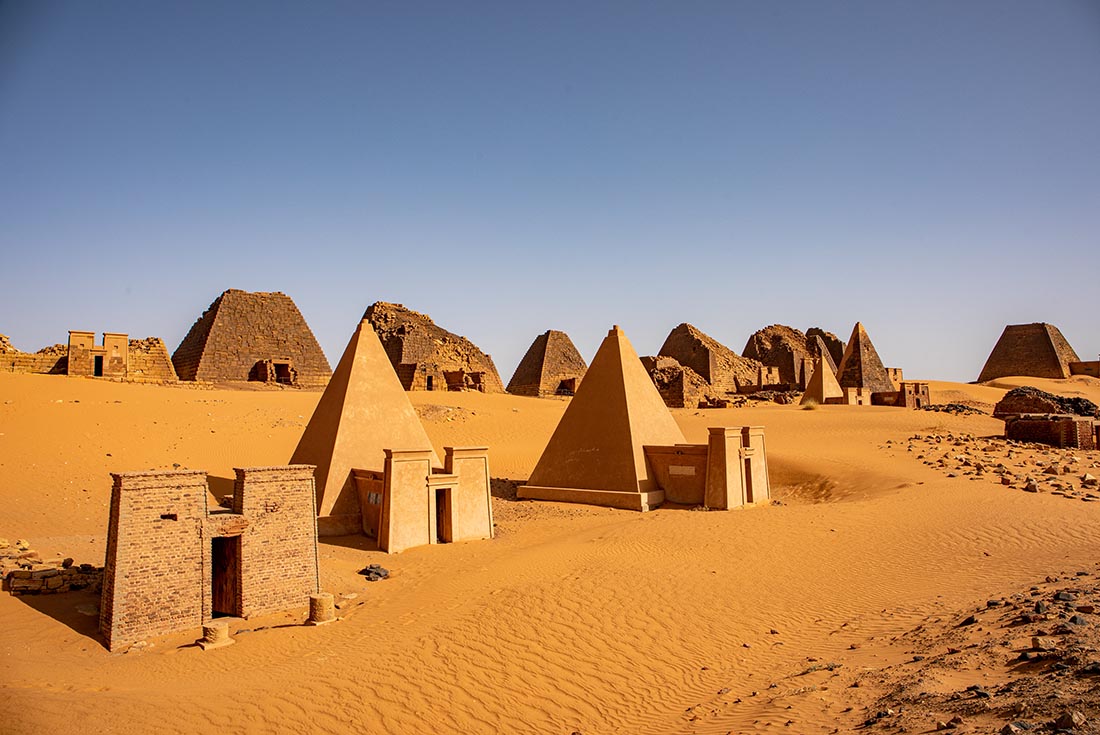 Northern Sudan Expedition

'You're going where?!' Expect to hear a lot of this – accompanied by a slack jaw and wide eyes – when you tell people you're heading to Sudan. Few people know that among vast stretches of sand dunes, Sudan holds some of the world's most incredible archaeological sites, ancient ruins and resilient cultures. That tucked under palm trees in oases you can meet people who live in Nubian houses painted with colourful murals, who speak unique languages and practice their own kind of Islam. On this truly Intrepid tour, you'll discover the remnants of great empires, learn powerful recent history in museums and from the locals you travel with, explore ancient cities and necropolises, and encounter modern Sudan in souks, chai houses and nomadic settlements along the way.

Activities
Khartoum – City & Museum Tour
Khartoum – Whirling Dervishes Celebration
Khartoum – Souk Visit
Karima – Old Dongola
Kerma – Defuffa visit
Kerma – Museum visit
Third Cataract – site visit
Wadi Sebu – site visit
Tombos – Ancient granite quarries
Soleb – Temple of Soleb
Karima – El Kurru
Karima – Coffee & Henna ceremony
Jebel Barkal – Temples and Pyramids
Karima – Pyramids of Nuri
Bayuda Desert – Atrun Crater
Atrun Crater – Hos el Dalan volcano hike
Meroe – Royal Necropolis of Meroe Pyramids
Naga – Naga Temples
Mussawarat – Mussawarat Temples
Shendi – market visit
Highlights
Ditch the phone and settle in for evenings spent stargazing at an endless sky – just one of the perks of wild camping in the Nubian Desert.
See an unforgettable sunrise over hundreds of pyramids at the Royal Necropolis of Meroe, watching as crumbling sandstone is warmed by the light of day.
Discover surprisingly diverse scenery on an early morning volcano hike, drives through black basalt rock formations and numerous journeys across the River Nile.
Watch an incredible display of faith and celebration as whirling dervishes from the Sufi Community twirl, dance and worship outside the tomb of Hamed el-Nil at sunset.
You can't do Sudan without a local. Your leader will introduce you to people in tiny villages, help you chat to Bisharin nomads and explain the complex history of this fascinating country.
Itinerary
Destination
Pricing
Terms and Conditions
| Day | Description | View All |
| --- | --- | --- |
| Day 1 | Khartoum | Details |
| Day 2 | Khartoum | Details |
| Day 3 | Old Dongola | Details |
| Day 4 | Tombos | Details |
| Day 5 | Soleb | Details |
| Day 6 | Karima | Details |
| Day 7 | Atrun Crater | Details |
| Day 8 | Abu Hamed (Nubian Desert) | Details |
| Day 9 | Meroe | Details |
| Day 10 | Meroe | Details |
| Day 11 | Khartoum | Details |
| Day 12 | Khartoum | Details |